Combining Acupuncture and IVF in Miami to Improve Clinical Outcome
---
Acupuncture for fertility is time tested, free of side effects and risks to the  mother and baby. Needless to say Acupuncture is one of the most effective alternative medicines proven to increase your fertility chances by 50%-70%.
It has been proven that acupuncture contributes to a good outcome in an IVF cycle by:
increase ovarian responsivity
increase estrogen levels if they are low
enhance follicle/egg quality
improve sperm vitality
relieve side effects of drugs
increase endometrium thickness where it is too thin
increase implantation rates
increase growth of new blood vessels in the uterus (which increases a  viable pregnancy)
increase the ATP & antioxidants in the mitochondria of the embryo to enhance development & implantation
During an IVF procedure most women report having stress, anxiety, abdominal pain, lack of sleep and more caused by hormonal stimulation. This can be detrimental to embryo collection and implantation. Stress has a negative impact on the uterine receptivity reducing implantation site. Lack of sleep affects cytokins by creating high levels of IL6 and tumor necrosis factor which are immune factors that can impact implantation of the embryo and placental development.
For this reason, specialists in In-Vitro Fertilization (IVF) highly recommended acupuncture during IVF cycles and after embryo collection due to the fact that acupuncture has been proven:
alleviate the side effects of medical treatments and improve response to   hormonal stimulation.
improve the blood flow to the uterus and ovaries.
alleviate tension which is caused by these extremely stressful procedures.
relax the uterus before implantation.
restore normal blood flow to the uterus and reproduction organs
settle down any tissue trauma
reduce effect of internal bleeding
reduce swelling of the ovaries
promote circulation to the lining of the uterus
The Benefits of Acupuncture and IVF
The following video discusses the benefits of acupuncture used with IVF
Preconception Care & Diet
The following video is a clip from the Today Show where Dr Dao from Santa Monica, California was interviewed on the importance of Preconception care and eating for fertility.
FREE Offer
I want to thank you for visiting my web site, and in return I would like to offer you a coupon for a FREE Initial Exam (a $75 value.) It is good for one initial exam and limited to one coupon per person. If ever you, your friends, relatives or colleagues are in need of my services, please print out this coupon and bring it when visiting us.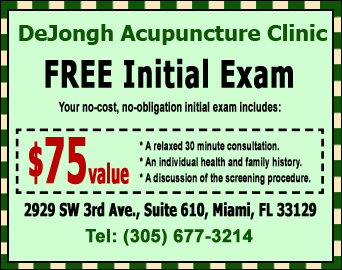 Click here to sign up now and receive your coupon immediately. Your no-cost, no-obligation initial exam includes:
A relaxed 30 minute consultation

An individual health history

Extensive exams of pulses and the appearance of the tongue, eyes

A discussion of findings and recommended treatments
If you have any questions send me an e-mail or call me at 305-677-3214. I'll be happy to answer your questions and discuss your concerns.
Ivelisse DeJongh, L.Ac.
Board Certified and Licensed
Miami Acupuncture Physician