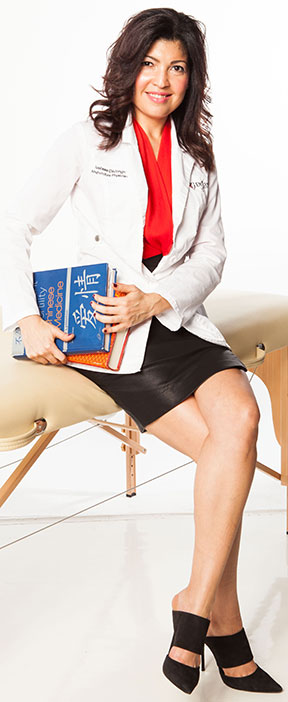 Many patients ask me...
"How did you get into Chinese Medicine?" Well, it all began back in 2002 when my mother ended up in the hospital with two respiratory failures and doctors not knowing the cause. Every day for 5 months, I would visit my mom in the hospital, during which I saw a countless number of people enter the hospital in need of help. This experience, along with the frustration, confusion and anger of many unanswered questions concerning my mom's condition became overwhelming.
I started to learn more about preventive lifestyle, nutrition, supplements and alternative medicine. I even enrolled in organic raw cooking classes. One day I was introduced to Traditional Chinese Medicine by the son of a Naturopathic doctor. Eager to know more, I hopped on a plane to Miami to visit the Acupuncture Massage College which I immediately became fascinated with. It was love at first sight and I went for it! Learning both Western and Eastern Medicine in school finally gave me the answers to my mom's health scare.
This entire experience has inspired me to help and heal many patients and become a clinician and entrepreneur driven by passion for what I do. I opened Fertility & Prenatal Acupuncture Center in 2009 treating a variety of conditions. Around 2013 I began my path towards becoming a specialist in Fertility, a subject I became extremely passionate about and found personally deeply rewarding every time I helped my patients. Through my years of treating Male and Female Fertility cases, I have created a systematic approach to finding the missing piece to what is hindering conception. I have also made the clinic's core principle focused on creating a personalized plan for each individual that promotes a healthier and balanced body. In Chinese medicine philosophy, it is taught that one must "regulate the cycle" for conception to occur.
Every patient I see has a unique story, and every unique story has a path. My goal is to join you along this path and help you build the family you dream of
~ Ivelisse DeJongh, A.P. (FABORM)
More about Ivelisse DeJongh, A.P. (FABORM)
Ivelisse DeJongh is a licensed and board certified Acupuncture Physician in Florida and founder of Fertility & Prenatal Acupuncture Center in Miami. She has a bachelor's degree in Health Science and Psychology from the Interamerican University of Puerto Rico and received her Master's in Oriental Medicine from the Acupuncture and Massage College in Miami. She is also a fellow of the American Board of Oriental Reproductive Medicine (ABORM).
Ivelisse has completed extensive post-graduate training in functional medicine and reproductive health including:
TCM Gynecological disorders
Male and female fertility
IVF/IUI support
Pre and post-natal care
Endocrine and thyroid disorders
Nutrition and supplementation
Ivelisse is trained in Acupuncture, Cupping, Tuina, Guasha, and Chinese Herbal Therapy.
Treatment Techniques
Acupressure
Cosmetic Acupuncture
Cupping
Electro Acupuncture
Facial Derma Roller
Facial Cupping
Gua Sha
Herbology
Homeopathic Injection Therapy
Moxibustion
Style of Acupuncture
Auricular Acupuncture
Meridian Balancing Technique
Traditional Chinese Acupuncture
Area of Expertise
Fertility
Egg Quality
Thin Lining
Elevated FSH
Luteal Phase Defect
Unexplained Infertility
Advanced Maternal Age Infertility
Premature Ovarian Failure (POF)
Decreased Ovarian Reserve
Male Factor Infertility
PCOS
Ovarian Cysts
Fibroids
Endometriosis
Thyroid Disfunction
Immunological Factors
Recurrent Miscarriage
Stress-Related Hormone Imbalances
Irregular Menses
Amenorrhea (including post pill amenorrhea)
Abnormal/Excessive Uterine Bleeding
Weight loss for Fertility
High Prolactin (Prolactinemia)
Pelvic Inflammatory Disease
IVF & IUI Support
Frozen Embryo Transfer (FET)
Pre & Post IVF/IUI Treatments
Men
Male Infertility
Prostatitis
Erectile Dysfunction
Premature Ejaculation
Impotence
Aging/Andropause
Pregnancy
Morning Sickness
Fatigue
Constipation
Swollen ankles Anxiety
Heart burn
Hemorrhoids
Threatened Miscarriage
Headaches/Migraines
Backache, Sciatica, Pelvic Girdle Pain
Breech Presentation
Cervical Ripening
Labour Induction Post Natal Care
Gynecological Disorders
PMS
Period Pain (Dysmenorrhea)
Irregular Periods
Amenorrhea
Fibrocystic breasts
Hormone imbalance
Thyroid dysfunction
Uterine fibroids
Pelvic Inflammatory Disease
Vaginosis
Yeast Infections